MIMS Collaborative Provincial Vision on Emergency Prepardeness & Public Safety
Policemen, firefighters and leading officers 24 hours a day, 7 days a week and 365 days a year are out there to serve and protect. It is paramount that having reliable and real-time access to critical information for each and every public safety worker. MIMS Provincial and Regional initiative will provide cross boundary data sharing and real time analysis for both Municipal and Provincial bodies. MIMS provides an operational solution that is a fast and easy decision support system. MIMS dedicated solutions in planning, preperation, briefing, debriefing, emergency events, law enforcement, crime analysis, traffic control analysis, traffic management, public works management, patrol steering, airborne observation, priority management, dispatching and even more capabilities.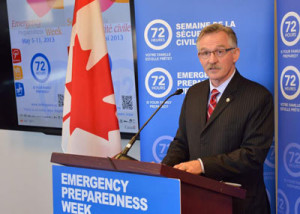 Harper Government Launches Emergency Preparedness Week
DARTMOUTH, Nova Scotia, May 3, 2013
—Gerald Keddy, Parliamentary Secretary to the Minister of International Trade and Member of Parliament for South Shore—St. Margaret's, today launched the 18th annual Emergency Preparedness (EP) Week on behalf of the Honourable Vic Toews, Minister of Public Safety, at Environment Canada's Atlantic Storm Prediction Centre. This year's EP Week runs from May 5-11 with the theme of "Make a Plan". "Keeping Canadians safe is one of our Government's priorities," said Parliamentary Secretary Keddy...
Read more